Con il comunicato stampa di seguito allegato, Samsung Electronics America ha annunciato il monitor con diagonale di 23-inch siglato Syncmaster PX2370 (cfr. la foto seguente), l'ultimo arrivato nel catalogo del primo produttore al mondo di display LCD tra le soluzioni che utilizzano la tecnologia LED.
Samsung chiarisce subito i punti di forza del suo nuovo prodotto, che includono le seguenti specifiche: il tempo di risposta pari a 2ms, il supporto delle modalità video Full HD a 1080p e delle tecnologie Touch of Color (ToC) e Mega Dynamic Contrast Ratio (DCR, quest'ultima determina un rapporto di contrasto dinamico pari a 5.000.000:1 mentre quello statico è pari a 1000:1) e l'ampia compatibilità con le sorgenti in virtù della dotazione di ingressi di tipo VGA, DVI e HDMI.
Il produttore, tuttavia, sottolinea l'aspetto ecologico connesso al suo Syncmaster PX2370, che non soltano consuma poco grazie alle tecnologie Smart Sensor Technology e Ambient Light Sensors (ALS), ma è anche realizzato con materiali e tecniche di fabbricazione che minimizzano gli impatti del suo smaltimento sull'ambiente.
Il Syncmaster PX2370 sarà commercializzato nel corso del mese di Aprile nel mercato nordamericano; l'MSRP ufficializzato da Samsung è pari a $369.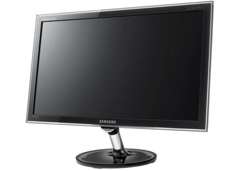 [Immagine ad alta risoluzione]

Samsung Electronics America Inc., a subsidiary of Samsung Electronics Corporation, the number one worldwide brand of LCD display products, today announced the launch of its latest premium LED monitor, the 23 inch Samsung Syncmaster PX2370. The PX2370 will be available in April from Samsung resellers at a price of $369, giving customers outstanding performance combined with sleek, attractive design and energy-efficient technology.
"With its slim 18mm depth and eco-sensitive design, the PX2370 leads the way with the smallest footprint possible, both on the desktop and the environment," said Young Bae, director Display Marketing, Samsung Information Technology Division. "Consumers no longer have to choose between a high-performance, feature-laden product and green technology."
Energy Saving Design

The PX2370 is designed with a simple, sophisticated black and transparent shell. It also incorporates a range of innovations to make it one of the most eco-sensitive LED monitors on the market, while providing an unrivaled user experience with excellent image quality. The monitor contains a number of features to maximize energy efficiency, including Samsung's Smart Sensor Technology, with both proximity and Ambient Light Sensors (ALS), which automatically turn it on and off when not in use. As a result of these innovations, the PX2370 has been awarded with Energy Star and EPEAT Gold Certification.
Vivid, Dynamic Images

The display uses Samsung's Mega Dynamic Contrast Ratio (DCR) technology and 16:9 FHD resolution to display more vivid and dynamic images. This makes it ideal for use across the range of applications, especially wide-format multimedia images, such as video and CAD. With a slender 18mm depth and premium styling, the PX2370 ensures that both the on-screen image and overall design are pleasing on the eye.
Minimizing Environmental Impact
In addition to its energy-efficient technology, the monitor also contains other major advances to minimize environmental impact of its components. The PX2370 uses Samsung's Premium Touch of Color (ToC) Design and is crafted from black and transparent materials that don't require painting, ensuring it contains no Volatile Organic Compounds (VOCs), making recycling more simple and safe. The monitor also contains numerous components created from recyclable materials, and is shipped using less packaging materials, further reducing its environmental impact.
The PX2370 as well as additional monitors in the Samsung product line will be on display at Central Hall Booth #11026 during the International Consumer Electronics Show at the Las Vegas Convention Center, January 7 – 10, 2010 and available through Samsung resellers in April 2010.
Syncmaster PX2370 Monitor Key Specs
Thin 18mm design

MEGA DCR 5,000,000:1 (Static Contrast Ratio 1000:1)

Ultra fast 2ms (GTG) video response time

Analog RGB/DVI/HDMI inputs

Offers a 1080p full-HD experience

"Touch of Color" (ToC) technology

Proximity & Ambient Light sensor
All monitors are available through Samsung resellers and distribution channels, which can be located by calling 1-800-SAMSUNG or by visiting www.samsung.com. Samsung Power Partners receive special promotions, lead referrals, training and technical support, as well as collateral and marketing materials. To find out more about becoming a Samsung Power Partner, visit www.samsungpartner.com.





Source: Samsung Press Release
Links