In leggero anticipo rispetto all'apertura del CES 2010, Acer ha annunciato ufficialmente la sua nuova generazione di netbook, che ruota intorno all'Aspire One AO532h. Rivolto ufficialmente al solo pubblico statunitense, il seguente comunicato stampa deve essere in realtà inteso come una preview dedicata a tutti gli utenti dei sistemi portatili ultracompatti di Acer.

L'Aspire One AO532h è equipaggiato con il processore Intel Atom N450, anch'esso tra i protagonisti annunciati del prossimo CES, e con un display da 10.1-inch (un WSVGA con Acer CrystalBrite); la motherboard del nuovo netbook include il chipset Intel NM10 Express e l'IGP Intel Graphics Media Accelerator 3150; la memoria RAM supportata è di tipo DDR2 a 667MHz mentre l'HDD è a 5400RPM.

In accordo al maker, la tecnologia Intel Pine Trail, da un lato, e il ricorso ad uno schermo realizzato con un pannello LED-backlit, dall'altro, permettono una sensibile riduzione del consumo di potenza, da cui consegue un boost della durata della batteria, che può raggiungere le dieci ore in abbinamento ad una batteria a sei celle ad alta intensità (con quella standard l'autonomia è garantita fino a 8 ore, ndr).

Sono tre le colorazioni del netbook, mostrate peraltro di seguito, mentre il Sistema Operativo pre-installato è Windows 7 Starter Edition. L'MSRP dell'Aspire One AO532h per il mercato statunitense è pari a $299.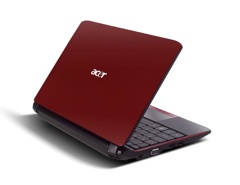 [Immagine ad alta risoluzione]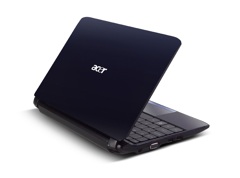 [Immagine ad alta risoluzione]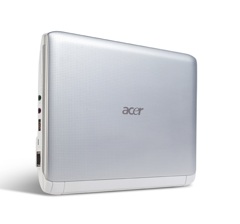 [Immagine ad alta risoluzione]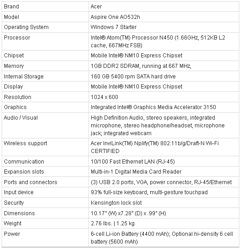 [Immagine ad alta risoluzione]

Acer America today debuts the next generation of its acclaimed line of Aspire One netbooks. These new Aspire One AO532h netbooks are packed with powerful features and performance to boost productivity and battery life, enhancing the mobile computing experience. Designed for all day mobility and connectivity, the Aspire One AO532h netbooks feature the latest Intel technology with the Intel Atom N450 processor, 10 hours of battery life, fast Wi-Fi connectivity, a 10.1-inch LED-backlit TFT LCD and a large keyboard with a Multi-Gesture touchpad. All this power and functionality comes in a package that is only 1-inch thin and weighs just over 2-1/2 pounds, making it a true mobile companion.

"These new Aspire One netbooks offer mobile users some of the features and performance of a larger notebook, while providing a highly portable, compact design that's easy to take anywhere," said Ray Sawall, senior manager of product marketing for Acer America. "Consumers can browse the Internet, check email, share photos, enjoy their entertainment applications, and even get work done wherever their travel takes them."

High-Performance Features That Save Power for All Day Mobility
Engineered for extreme mobility, the Aspire One utilizes the energy-efficient Intel Atom N450 processor, integrated Intel graphics and the mobile Intel NM10 Express chipset to keep users connected while on-the-go.

To further support power savings and longer battery life, the netbooks' 10.1-inch LED-backlit TFT LCD saves 22.2 percent power compared with other netbook displays. The new Aspire One netbook line offers many configurations to fit a wide range of consumer needs. Batteries are one component that have several options, including a high-density, six-cell Li-ion (5600 mAh) battery that delivers up to 10 hours of battery life or a 6-cell Li-ion (4400 mAh) for up to 8 hours battery life. Additionally, the batteries give a slight tilt to the netbook for a more comfortable typing experience.

Mobile Performance and Connectivity
The new Aspire One AO532h netbooks offer users a simple and reliable mobile computing solution. The netbooks all come with ample memory and a large internal hard drive to store plenty of digital albums, music and documents.

To remain connected, the netbooks feature 802.11 b/g/n Wi-Fi and fast Ethernet LAN connectivity. For further communications needs, the netbooks are equipped with a built-in webcam, delivering smooth video streaming and high quality images for online chats and video conferences. A built-in digital microphone conveys superior voice quality, keeping background noise levels low and minimizing echoes.

The Aspire One netbooks have a 10.1-inch CrystalBrite LED-backlit display, offering a broader viewing area for Web page navigation and data input. They also utilize a Multi-Gesture Touchpad, allowing users to pinch, flick and swirl their fingers across the touchpad for intuitive navigation. It also allows users to scroll, zoom in and out, and flip through web pages, photos, spreadsheets and more. Additionally, a larger keyboard - 93 percent standard size - is more convenient for typing.

Several of the new netbooks include Windows 7 Starter Edition, combining the latest in reliability and responsiveness with the familiarity and compatibility of Windows.

Pricing/Configurations/Availability
The Acer Aspire One AO532h netbook will be available for U.S. customers at leading retailers this month. A sample configuration follows.
Intel Atom Processor N450 (1.66 GHz, 512KB L2 cache, 667MHz FSB)
10.1" WSVGA Acer CrystalBrite LED-backlit Display
Mobile Intel NM10 Express Chipset
Integrated Intel Graphics Media Accelerator 3150
1024 MB DDR2 667 MHz Memory
160GB 5400 RPM SATA Hard Drive
Multi-in-1 Digital Media Card Reader
Acer InviLink Nplify 802.11b/g/Draft-N Wi-Fi CERTIFIED
10/100 Fast Ethernet LAN (RJ-45)
Built-in Webcam
Two Built-in Stereo Speakers
Multi-Gesture Touchpad
3 - USB 2.0 Ports
6-cell Li-ion Battery (4400 mAh)
2.76 lbs. | 1.25 kg
10.17" (W) x7.28" (D) x .99" (H)
Windows 7 Starter
Three stylish colors: Onyx Blue, Garnet Red and Silver Matrix.
MSRP: $299.99




Source: Acer Press Release
Links


Tags: atom n450