In accordo ad un report proveniente dalla autorevole agenzia di ricerca di Jon Peddie, che ha condotto uno studio intitolato "First Quarter, 2009 – Graphics Semiconductor shipments and market activity", la quota di mercato di AMD nel campo dei dispositivi a semiconduttore dedicati alla elaborazione grafica è risultata in forte crescita nel secondo trimestre del 2009.

Ed è in particolare il settore della produzione dei notebook che esalta la posizione di AMD, dal momento che le gpu della linea ATI Mobility Radeon Premium equipaggiano ad oggi le schede grafiche discrete di oltre il 50% dei portatili sul mercato. La quota di mercato a favore di AMD, in termini di gpu per le schede video delle soluzioni mobile, è pari al 53%.

Rispetto al primo trimestre del 2009, nel secondo trimestre dell'anno corrente AMD ha registrato una crescita delle vendite dei chip grafici ATI Mobility Radeon Premium pari a oltre l'87%.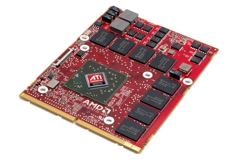 Modulo ATI Mobility Radeon HD 4860 MXM
[Immagine ad alta risoluzione]

AMD (NYSE: AMD) today announced that according to the latest industry data, notebook manufacturers have chosen ATI Mobility Radeon Premium graphics processors to drive more than half of today's discrete graphics notebooks. The data for mobile discrete graphics reveals a 36.5% market share gain, and 87.27% more units sold quarter-over-quarter through the first six months of 2009.1 AMD now holds the "Number 1" position with an overall 53% mobile discrete market share. The incredible momentum behind ATI Mobility Radeon Premium graphics processors is a result of:
Advanced performance, leading features, and innovative technology delivered by the ATI Mobility Radeon HD 4000 series of graphics processors, such as ATI Mobility Radeon HD 4530 and ATI Mobility Radeon 4670, including support for the latest Microsoft DirectX 10.1 enabling a home theater-quality HD multimedia experience, and an energy-efficient design for long battery life at work, at home or at play.
With well over 200 design wins of current and future commitments from leading manufacturers worldwide, customer adoption of the ATI Mobility Radeon HD 4000 series of graphics processors has increased across a wide range of mobile discrete notebook segments, including the HP Pavilion dv6T, Acer Aspire 5739G, Samsung R522, Asus W90Vp-X1, and MSI GX623 -- a balanced portfolio of AMD- and competitor-based notebook platforms.
An augmented presence in retail, including Best Buy Canada and Future Shop with a focus on the HP Pavilion dv6 Artist Edition Entertainment Notebook PC featuring AMD Turion Ultra X2 Dual-Core Mobile Processor and ATI Mobility Radeon HD 4650 graphics.
Supporting Quotes

"As consumers' increasingly demand greater visual computing capabilities in their notebooks, the market for discrete graphics is only expected to grow," said Dr. Jon Peddie, founder and principal, Jon Peddie Research. "The increase in volume in the second quarter of this year, and in AMD's mobile discrete market share, is a testament to consumers' appetite for visual computing, and manufacturers' readiness to satisfy it as we move into what has traditionally been the busiest season of the year."

"AMD has worked diligently to introduce technology that gives people an incredibly compelling visual experience on a notebook platform, and the latest market data showing the phenomenal uptake of ATI Mobility Radeon based notebooks validates the quality of both our products and that experience," said Matt Skynner, Vice President & General Manager, GPU Division, AMD. "We're moving into the back-to-school and holiday seasons, and there's also the upcoming Microsoft Windows 7 operating system. AMD continues to provide the solutions for the mobile discrete market and ATI Mobility Radeon based notebooks."

Supporting Resources



Source: AMD Press Release
Links


Tags: amd | ati | gpu | mobile | radeon