AeEsBii
Novice

USA
3 Posts
Posted - 12/04/2011 : 07:18:01
---
Hello, folks! I recently snatched up a Voodoo4 4500 PCI card. It's mostly because I wanted to collect it, but it would be nice if I could get it working for some tests, too.

I installed the latest SFFT drivers and adjusted some BIOS settings (including returning my FSB to its stable default, and of course setting VGA to check for PCI graphics first).

I had read that on LCD screens the BIOS POST won't appear, but even Windows 7 (64-bit) isn't recognizing the card, not even as an Unknown Device. (It's like there's nothing in the PCI slot - and I know the slot works with other cards.) The fan on the card spins, so it's getting power, but that's all I know.

I'll be setting up a Linux partition later in the week, at which point I'll also try the card again. Any hints, tips, or suggestions would be welcome.

Thanks in advance. Oh, and here's a picture: Link for full size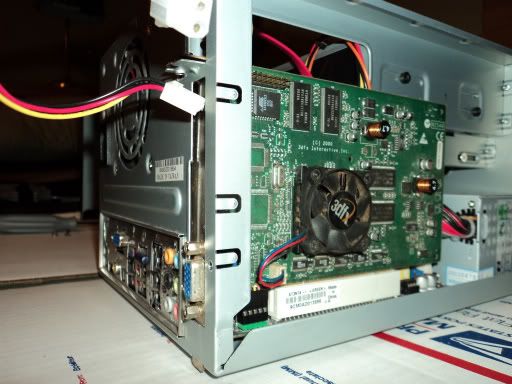 The card is almost too long for my mini-case, about a centimeter from touching the power supply, less if you consider that the wires are too stiff to move out of the way.

And I know, I need to clean it up!
---
Edited by - AeEsBii on 13/04/2011 05:02:44
AeEsBii
Novice

USA
3 Posts
Posted - 29/11/2011 : 00:05:38
---
Silly me - I hadn't fully cleaned the PCI contacts. I haven't put it into my current Windows 7 machine yet (it's a full size ATX system, and I don't feel like trying to install the Voodoo card alongside my Radeon HD 5750).

But I grabbed a cheap Socket 7 motherboard with an AMD K6-2! It boots with the Voodoo card, now I just need to figure out how to install a Windows OS without an IDE CD drive or floppy drive.

The card is still alive, at least!