First two breathtaking screenshots of Crysis 2 are finally on line and you can see in this page. Crysis is the upcoming video game developed by Crytek and published by Electronic Arts. It follows the two previous titles related to Crysis name: these are the well-known Crysis and Crysis Warhead.
Crysis 2 takes place in New York city and, according to Crytek, it "brings highly vertical gameplay to the table, made possible with the Nanosuit 2, developed by Crynet Systems".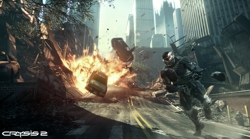 This game uses the new proprietary engine CryEngine 3, showed the first time at the 2009 Game Developers Conference (GDC) and full of technical innovations that promise enhancements for advanced graphical and physical effects as well as for gameplay. In few words, a "new kind of realism in gaming".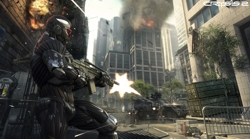 Crysis 2 will be released some time between October and December 2010; Crytek is working on three editions for Microsoft Windows, PlayStation 3 and Xbox 360 platforms. The developer didn't officially announce the DirectX 11 support about the PC edition of Crysis 2.





Links