Finally the long-awaited Crossroads Debut Gameplay trailer is here: the publisher Square Enix as well the developer Crystal Dynamics show off a preview of the upcoming game Tomb Raider and promise more details at E3.
According to Square Enix, the new Lara resumes its adventures from the same point: simply she must ruthlessly to fight for her life. This is the official presentation of the trailer.
---
"A young Lara Croft has already proven herself to be a survivor, but one on the cusp of an extraordinary adventure. Caught in the clutches of an enigmatic island, Lara is captured by hostile natives and faced with a traumatic and character-defining decision. On this island, forces beyond her control leave Lara little alternative but to ruthlessly fight for her life."
---
The reboot of Tomb Raider is now under development at the studios of Crystal Dynamics: the software house has choosen a proprietary graphics engine for this title.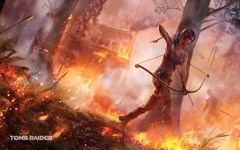 [Immagine ad alta risoluzione]

An alpha release of Tomb Raider will be showed soon at the E3 (Electronic Entertainment Expo) 2012 (5-7 June 2012, in Los Angeles, U.S.). Square Enix unveiled also the release date of the game for North Amerca: in fact according to one of last frames of the debut trailer, Tomb Raider will be available on March 5, 2012.





Collegamenti