Developer Bethesda released the first screenshots for its upcoming DLC, Mothership Zeta, as well as info on what you can expect from our 5th and final DLC for Fallout 3. Mothership Zeta will be released August 3rd on Xbox Live and Games for Windows Live for 800 points, and will be released at a later date for PlayStation 3.
According to Bethesda, "Mothership Zeta takes Fallout 3 in an entirely new direction - outer space. Meet new characters and join with them in a desperate bid to escape the Aliens' clutches. To do so, you'll wield powerful new weapons, like the Alien Atomizer, Alien Disintegrator, and Drone Cannon, and deck yourself out in brand new outfits, like the Gemini-Era Spacesuit and even Samurai Armor".
About the story of new DLC Bethesda writes: "a strange Alien signal is being broadcast throughout the Capital Wasteland, originating from a crashed UFO. Is it a distress call, or something far more sinister? That question is answered when you find yourself beamed aboard an enormous Alien spacecraft, with only one alternative – to fight your way to the bridge of the ship and secure your escape".
There're the four official Mothership Zeta screenshots.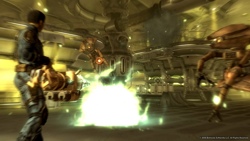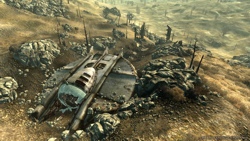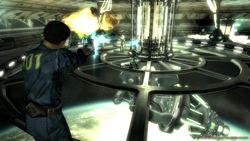 Links