After the release for the Xbox 360 gaming platform of Uprising, the second Map Pack for the first-person shooter Call of Duty: Black Ops 2, the publisher Activision unveiled the launch date of the latest downloadable content pack's editions for Microsoft Windows PCs and Sony PlayStation 3 consoles.
According to the official announcement, Uprising will be available for PC and PS3 players next month, and exactly on May 16th. So this Map Pak will hit Windows and Sony gaming machines with a standard 30 days delay: as you knows, there's an agreement between Activision and Microsoft that brings the Call of Duty add-ons to the Xbox at least a month before the all other systems.
The Replacers - Official Call of Duty: Black Ops 2 Video
Call of Duty: Black Ops 2 Uprising includes four new multiplayer maps - dubbed "Magma", "Encore", "Vertigo", and "Studio" - as well as a re-imagined multiplayer classic map, "Firing Range". Furthermore, Uprising allows to play "Mob of the Dead", that is the "Treyarch's most terrifying Zombies experience to date", according to the game publisher.
Call of Duty: Black Ops 2 Uprising - Box Art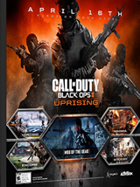 The price of Call of Duty: Black Ops 2 Uprising will be equal to $15, but you can save money and play more purchasing the Season Pass at $49.99. Using this promotion, you get access to four map packs, and so to Revolution, Uprising, and other two planned but not yet announced DLCs.





Links